It was one of the saddest days for Australian literature when the great Peter Temple died in 2018. He was the first crime writer to win the Miles Franklin and he took crime writing onto a new level.
He wrote five standalone novels, including the Miles-winning Truth, and four featuring his Fitzroy-based fixer of all sorts of problems, Jack Irish. The Irish novels were adapted for the small screen with Guy Pearce and the series will be making a final appearance on the ABC later this year.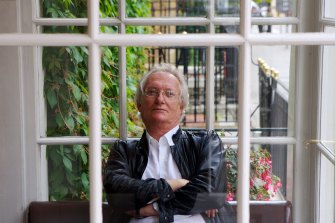 When Temple died, he left 20,000 words of an unfinished Jack Irish novel, High Art, on his laptop. It was published in 2019 in a collection of his critical writing – much of which appeared in these pages – and short stories. Now the book, The Red Hand, has been shortlisted in Britain, where in 2007 he won the crime writers association's Gold Dagger for The Broken Shore, for the Crimefest H.R.F. Keating award.
The prize is for "the best biographical or critical book" about crime fiction published last year. Keating was a prolific reviewer and creator of the Inspector Ghote books (would he write about an Indian detective these days, I wonder?)
Temple's collection is up against some formidable books, including Heather Martin's biography of Lee Child and Craig Sisterson's Southern Cross Crime, a guide to the crime writers of Australia and New Zealand. I commissioned many of the reviews included and always relished receiving the finished article.
He was never one to hold back. Here he is on James Ellroy's The Cold Six Thousand: "The book is just a catalogue of psychopathic behaviour – graceless, charmless, witless. There is no moment in all of it when time sticks and the mind considers a sentence, sentences, a paragraph. Nothing induces reflection. The only constant reflex is a vague feeling about the pointlessness of it all. Still, the book will find its audience. And what does it matter if block letters triumph over joined-up writing?" Temple, though, was master of joined-up writing.
Clear in any language
Translators and authors in Britain have made their views plain after the kerfuffle over a couple of translations of Amanda Gorman's poem The Hill We Climb.