Winter is coming… to the theatre. The biggest television franchise of all time, the fantasy series Game of Thrones, is set to open in 2023 and Australia is in line to stage the blockbuster production.
In a global announcement made early Tuesday morning, George R.R. Martin who wrote the novels on which the record-setting show was based, said he was looking forward to telling the "whole story" and his dream was to bring the world of Westeros to New York's Broadway, to London's West End and to Australia.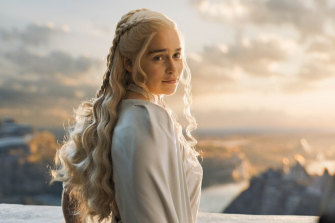 Martin will be strongly involved in the stage production, which will feature many of the key characters and themes of the series but promises to take the story in a new direction.
The show will be directed by Dominic Cook, former artistic director of London's Royal Court Theatre, whose production of Sondheimn's Follies at the National Theatre was nominated for 10 Olivier awards. He recently moved into TV and film with The Hollow Crown: Wars of the Roses starring Hugh Bonneville, Sophie Okonedo and Judi Dench, On Chesil Beach starring Saoirse Ronan and The Courier starring Benedict Cumberbatch. The script is being written by British playwright Duncan MacMillan.
"One of George's inspirations for the original books was Shakespeare's history plays so the material lends itself naturally to the theatre. Duncan MacMillan and I are having a great time digging into the dynastic power struggles at the heart of George's extraordinary imaginative world and he has been hugely generous and supportive towards both of us," Cook said.
Australia's Tim Lawson is one of the main producers – alongside US theatre producer Jonathan Sanford, with whom he has created other large-scale touring shows including The Illusionists. Lawson said he was in discussion with venues in Melbourne, Sydney, London and New York about where the play would premiere. He said a show of this size and calibre would be staged in the world's major markets.
"I am beyond thrilled to be involved in taking the legendary George R.R. Martin's thrilling work to the stage," Lawson said. "I'd love it to come to Australia."
Martin, whose Game of Thrones novels have sold more than 90 million copies and inspired David Benioff and DB Weiss's HBO series that ran from 2011 to 2019, hinted at the plot of the play.