"A gaze of raccoons at the treeline,
three kits and a round mother, 
watch me work the hard red pine 
behind their burglar's masks." 
These lines, written by Niccolo Bechtler, a first-year master of fine arts (MFA) student with a concentration in poetry, are drawn from his poem "Fissure." The poem was one of several Bechtler selected to share during his first reading at the Hugo House's monthly UW Castalia reading group. 
On Jan. 13, Hugo House hosted its monthly UW Castalia reading group, where MFA students share their work with a broader audience. Poets and prose writers receive feedback and support from a public audience that, even over Zoom, is eager to encourage their craft. Even though he was the first to read at the event, Bechtler appeared comfortable and in control of his tone and rhythm.
After graduating from American University in 2021, Bechtler came to UW to continue perfecting his craft. As a guitarist, Bechtler was especially drawn to the rhythm of poetry. 
"I came to poetry for music," Bechtler said. 
Foe Bechtler, songwriting is his favorite part of composing music. He later found, upon taking a poetry workshop as an undergraduate student, that the flow of poetry was preferable to prose for him. 
"Everything that was frustrating about prose, poetry resolved," Bechtler said. 
Bechtler, one of four poets in his MFA cohort, has since used poetry to workshop different ideas and concepts of interest, including philosophy (European and Asian), memory, math, and science. The other poems he presented at UW Castalia were among the first in his series that explores auspicious objects in the Buddhist tradition. 
Bechtler has been working with first-year undergraduates in English as a teaching assistant while working on his creative pursuits and discussed his interest in writing and teaching. 
"If you're a writer, you're going to be a writer," Bechtler said. "It just happens organically."  
UW Castalia also spotlighted other first-year MFA students during the reading. Hailing from Atlanta, Georgia, Stephanie Colwell, a prose writer in the MFA program, shared her work on "Blackness, bisexuality, bodies, and hurt."
Colwell's story at UW Castalia, which recounts the troubled relationship between a mother and father through a child's eyes, elicited an emotional reaction from me even without having walked in her shoes or knowing her full story. The visceral, raw feeling of, despite being a young child, understanding the gravity of a mother cheating on a devoted father, resonated with me –– nearly bringing me to tears during her reading. The breadth of subjects captured within the readings by the MFA students left an impact on me, and I'm excited to hear more of their work in the future, whether it be spoken or written.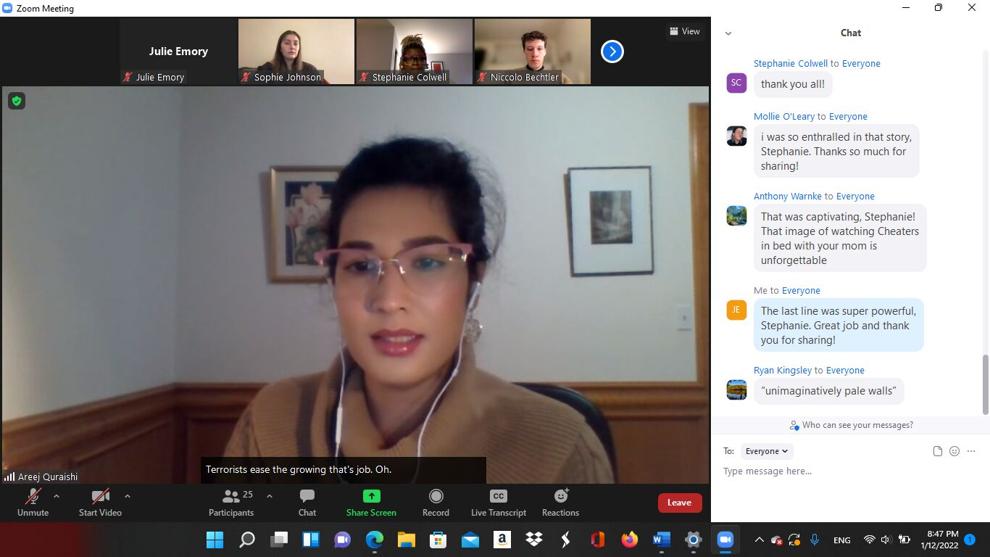 The next UW Castalia event will be held Feb. 9 at 8 p.m. over Zoom. Although the event is free to attend, tickets from the Hugo House website  are required to access the Zoom link. The group also posts updates on its Facebook page, including brief biographies about the presenting MFA students. 
Reach writer Julie Emory at arts@dailyuw.com. Twitter: @JulieEmory2
Like what you're reading? Support high-quality student journalism by donating here.