Carey said the artist's lived life and the imagined life should be separate and that great literature would always become relevant again even if it fell out of fashion for a time.
"I know very many distinguished literary academics and writers who still admire Roth's work and so do I, and part of him is reprehensible but if the reprehensible person can every now and then produce a work of genius we need to see the genius," Carey said.
"I think the work will come back. I don't think we're going to lose great literature because Roth acted like an arsehole. In the end the work will survive."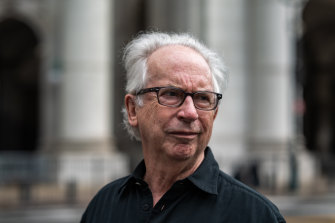 Carey said social change was overdue and that revolutions "go too far always", leading to wrongs committed in the name of justice.
"I think the time we are in is very complicated and it's very confusing and there's a lot of wrongs being done in the name of justice. You always have to think that women have taken shit from men forever and had to deny it and not denying it any more is a huge change in the world. That's an important thing that happens but what comes with it is also injustice comes with it and all sorts of things come with it. I think one just negotiates each particular event as it occurs."
While acknowledging his status as an "old white guy", Carey said teaching at New York University's Hunter College kept him "connected to a complex society" and he didn't feel alienated from the concerns of his students.
Carey's last novel, 2017's A Long Way From Home, told the story of colonial Australia's treatment of Indigenous people using a character who had been brought up white but discovered he was Indigenous. Carey recognised the complexities that now come with writing across difference. He doesn't take the all-or-nothing Lionel Shriver approach towards the question of cultural appropriation, but recognises a need for writers to be humble, patient and consultative.
"There were things about writing that book that may have caused offence and upset, but being pilloried for writing it would be a small cost to pay compared to lacking the courage to write it," he said.
"I think people are so used to writers being lazy and arrogant and writing about other cultures, without really taking the time and the effort to listen and then to be brave enough to have their manuscripts read by people who are not necessarily literary but have a point of view about it. I don't think any of that process limits creativity, in fact I think it increases it."
Carey will make a rare writers' festival appearance via video link at the Sydney Writers' Festival in May. While he is distant from the drama and detail of Australian cultural and political life, Carey recently warned against cuts to literary funding in a submission to a parliamentary inquiry into creative industries and institutions.
Loading
"There are a few things that you can rely on still about Australia. You're probably going to have a government most likely that doesn't support the arts, that doesn't think it's worth the money and time and if they want to support the arts they'll support the opera and the ballet which they like to go to and hang out and they're not going to think the rest of us are worth very much."
As for his next book? Unwilling as he may be to commit to a deadline, Carey hinted that it is set "south of Indonesia", so even after three decades away the author is still looking towards home.
Peter Carey is a guest at Sydney Writers' Festival.